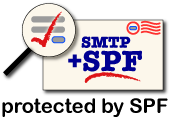 SPF (Sender Policy Framework) records are a great way to ensure emails you send actually land in your customers inboxs, and not the spam filter or worse yet completely blocked by your customers mail server.  With the added ability to block any attackers that may be spoofing your organizations domain name, SPF records are a must for most organizations.
Who Needs SPF Records the Most?
Any organizations that send email using their own domain name like sample@bccscomp.com should have an SPF record.  Folks who send email from services such as Hotmail, Gmail, or Yahoo don't have to worry about SPF records; although anyone who has their email hosted by Google Docs, Office365, or any other service using their personal domain name does need to make sure their SPF  is setup in their domain's DNS records.
Companies that use HTML Email Marketing, especially, should make sure their SPF record is setup correctly.  Otherwise they could end up paying for emails that never reach their customers inbox's and missing valuable marketing opportunities.  Also companies that use third party services, such as invoicing services, to send emails on their behalf should make sure their SPF record is set correctly.
Using SPF Records to Stay Off of Spam Email Blacklists
A correctly setup SPF Record can keep your domain and email servers off of blacklists designed to fight Spam emails sent by spoofers.
This functionality requires two parts.
You must specify that any servers not included in your SPF record are NOT allowed to send on your behalf.
The recipient's incoming email server must be setup to check and  enforce the pass/fail result returned to it.
What Are Some Mistakes People Commonly Make When Editing Their SPF Record?
Not having an SPF record.
While that may be OK it's a good idea to investigate the consequences of your SPF strategy.  It could be better not to have one than to have one that is setup incorrectly.  If you use email by your web host, they may have setup an SPF record for you that includes their main email servers, otherwise you may have no record or an incorrect record causing problems.
Omissions from not updating your existing SPF record when adding or making changes to your primary email host or hosts that send on your behalf.
This can result in emails that have a higher delivery failure rate than necessary.
Having an SPF record that is too strict
If you are not sure which servers should be able to send on your behalf, then you can loosen the SPF Record to accommodate omissions, otherwise you could be marking good emails as spam.
Having an SPF record that is too loose
A loose SPF record could result in bad emails being delivered by spoofers.
Having more than one SPF record for a domain
Only one SPF record is recognized.  All server entries should be included in the same record.  I have seen organizations with a different record for each server.  After they switched email hosts, they added a whole new record that was never recognized.  This resulted in all of their emails not being marked as good and could have resulted in all of their emails being marked as bad had the original SPF record been more strict
Who Can Help You Setup Your SPF Record Correctly?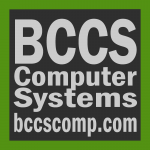 Contact BCCS Computer Systems so we can check your SPF Record and ensure proper email deliver for your domain!
Other Resources
Visit the Sender Policy Framework website for more info
http://www.openspf.org/